I love Doodle Bugs Paper products and she is giving away one of her personalized portfolios! There are many chances to enter so click below now to start commenting!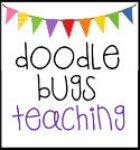 Doodle Bugs Teaching: Giveaway: Personalized Portfolio
: "I own a little business called Doodle Bugs Paper . You can read more about it here . One of the most popular things I sell are Personaliz..."