Well the day has finally come and I reached over 20 followers on both of my blogs! So I am having a give-a-way here for my teacher bloggers and a separate give-a-way on my other blog for my mommy/family bloggers. You can enter both and win a doubly good pink prize!
The prize on this blog is "Love, Pinkalicious" by Victoria Kann! I told you it would be PINK!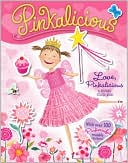 To enter, here is what you have to do:
1. Follow me on this blog faithfulinfirst.blogspot.com
2. Blog about this give-a-way on your blog.
3. Get an extra entry for following me on my mommy blog: pinksmyink.blogspot.com
Thats all there is to it, just leave separate comments for each entry (3 entries per person).
Contest ends Friday, March 4th at 8:00 p.m.
Good Luck!