Kristen over at Ladybug's Teacher Files is having a giveaway for her newest blog design! She is an amazing designer, so this is one you will want to win!!!! Click below for your chance: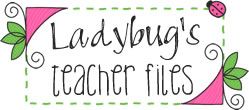 Ladybug's Teacher Files: Blog Design Giveaway!
: "So, first of all, I haven't blogged in about a week...which has never happened to me before! I can't believe the week I just had, but I'm so..."